AGM Update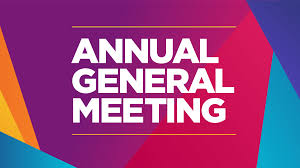 In adherence to public health guidelines, it will not be possible to hold our Annual General Meeting (AGM) in December 2020 as is traditionally the case, as at present, the only permitted format for our AGM is members attending in person.
However, it is hoped that legislation will be enacted by the end of the year which will allow credit unions to host virtual AGMs and to provide for different options around voting in the absence of a physical meeting.
In the meantime, the only option is to defer our AGM until early 2021. We will then make a decision on whether we will be able to hold a physical AGM, or host a virtual AGM, depending on the public health guidelines applicable at the time.
We are looking for you to help us to reduce our carbon footprint by signing up to receive your AGM communication by email rather than by post.  It is a regulatory requirement that we send you the AGM notification in some format, which in prior years was by post. By signing up to email notifications, you will be playing your part in reducing waste, saving trees, and also saving your credit union money. Signing up to receive your AGM notification by email takes less than one minute just click HERE