Personal Loan €15,000+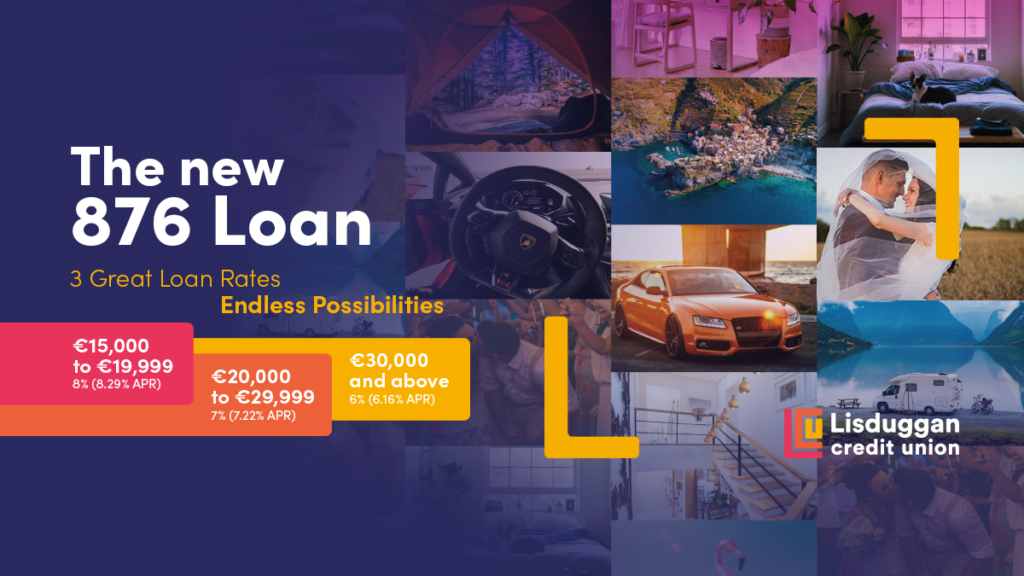 Our new "876" loan range offers you superb value on personal loans of €15,000+, allowing you to borrow for any purpose from home improvements to weddings and everything in between! But what really makes these loans special is that our interest rate gets lower as your loan gets bigger!
€15,000-€19,000: 8% (8.29% APR)
€20,000-€29,999: 7% (7.22% APR)
€30,000+ : 6% (6.16% APR)
Sample Repayment;
For a €25,000, 5 year variable interest rate loan with 260 repayments of €114.00, an interest rate of 7%, a representative APR of 7.22%; the total amount repayable by the member is €29,627.53. Information correct as at 1st November 2020
Loans are subject to approval. Lending Terms and Conditions apply.
Try our loan calculator and start your application today!
Phone: 051-355696
E-mail: info@lisduggancu.ie
Personal Loan €15,000+: Terms and conditions
Invoices/Quotes may be required depending on the purpose and value of the loan.
An "876" Loan can only be "topped up" by another loan within this category i.e. a minimum top up of €15,000.
The interest rate offered will be based on the overall loan balance.
An "876" Loan can be "topped up" on an existing loan balance provided that the "top up" portion is a minimum loan of €15,000.

The loan will then be subject to the t & c's of the "876" loan and can only be "topped up" as outlined above.